Helping you have a healthy visit
When you visit the Ark Encounter, you can rest assured that we have done the utmost to ensure the well-being of you and your family during your time with us.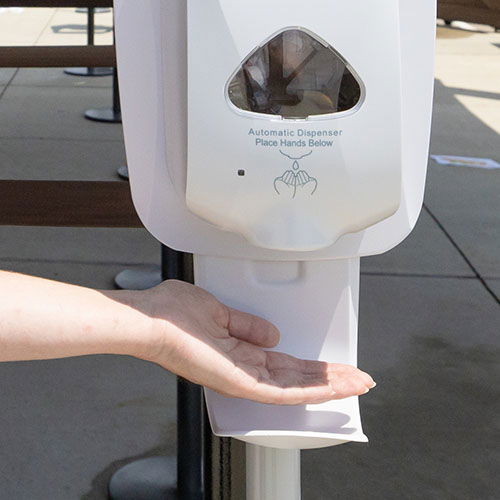 Enhanced Cleaning
Our Housekeeping teams already set a high standard for cleanliness and it is among the most complimented aspects of our guest's experience. During this time, they've increased that commitment even more with dedicated attention to cleaning and sanitizing high-touch and high traffic areas in accordance with CDC guidelines. We've also added additional handwashing and hand sanitizing stations throughout our attractions as an additional service to our guests.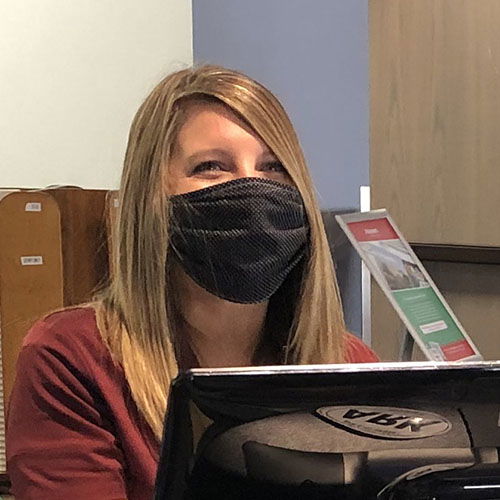 Masks & Gloves
Our staff are known for their friendly smiles. Even though our staff will be wearing face coverings, you'll still be able to see the smile in their eyes as they serve you and your family. Staff members will also be wearing other Personal Protective Equipment, including gloves, as necessary.
By order of the Kentucky Governor, face coverings are required to enter and are to be worn where you cannot reasonably social distance (buses, interior spaces, etc.)—unless medical or safety reasons prevent you from doing so. Children 5 years old and younger are also exempt from wearing masks.
We want everyone to have an enjoyable visit and ask that all guests be respectful of one another (and our staff) regarding the use of a face covering while at the attraction.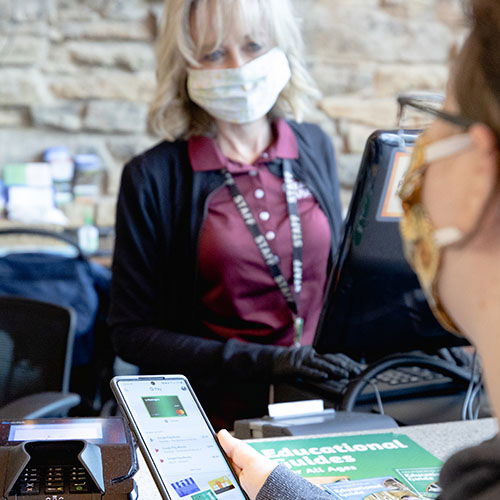 Online Ticket Purchasing
We strongly encourage guests to purchase their tickets online prior to their visit to reduce person-to-person interaction as much as possible and save time after your arrival. However, if you need to purchase tickets at the Ark Encounter, we've implemented new procedures to ensure guest safety. One guest per party will wait, with appropriate social distancing, in the ticketing queue line. Touchless and tap options for payment will be available at each ticketing station if desired.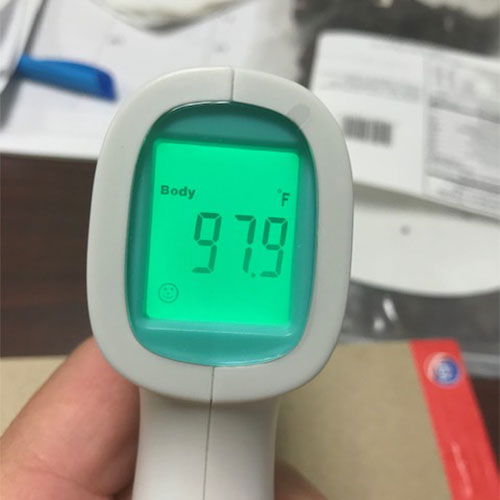 Social Distancing
We ask that guests join us in practicing social distancing by keeping a distance of at least six feet from other guests not in your own party. Please follow the signage we have placed throughout the Ark Encounter to help encourage proper social distancing by controlling the flow of visitors.
Staff Temperature Checks
We're dedicated to both guest and staff health and safety. Each morning upon arrival, all staff members will have their temperatures checked and be asked health and symptom screening questions.
What can I do?
We ask that all guests abide by the following guidelines.

Feeling Sick?
If you are sick, or have been feeling sick within the past 24 hours, please help keep others safe by staying home and planning your visit at a different time.

Social distancing
Join with us in maintaining a distance of at least six feet from other guests and staff members at all times.

Wash Hands
Wash your hands often with soap and water for at least twenty seconds. Hand sanitizer and hand washing stations are provided throughout the Ark Encounter grounds for your convenience.

Cover a Cough or Sneeze
If you cannot wear a mask for medical or other reasons and need to cough or sneeze, you should cover your mouth and nose with a tissue or your elbow before doing so.

Start Feeling Unwell During Your Visit?
If you begin to feel unwell during your visit, we ask that you immediately end your visit and come again at a different time.
Common Questions
With the reduced capacity restrictions, will you be able to accommodate all guests who visit?
Yes. There is a lot of room at the Ark Encounter both inside and outside. Even on our largest attendance day ever, we were still well below one-third of our capacity!
Do visitors need to wear a mask?

By order of the Kentucky Governor effective on July 10, 2020 (until further notice), face coverings are presently required to enter and are to be worn where you cannot reasonably social distance (buses, interior spaces, etc.). Face coverings are required any time you are unable to maintain six feet distance from those not in your household, such as while indoors and in transit on our buses, but are not required to be worn while seated and eating at one of our food venues. While our extensive outdoor grounds and zoo areas should make social distancing easy, if you find yourself unable to keep six feet from others, please make sure that you are wearing a mask if you are not exempt.

Exceptions to Face Mask Requirement:

Children 5 years of age and younger
Those with medical conditions or physical or mental impairments that prevent safe face covering
Deaf or hard of hearing persons or those communicating with them, where the ability to see the mouth is essential to communication

Please let us know if you have an exception or need a face covering.

How does the bus ride work?
We are cleaning and sanitizing the buses regularly in accordance with the CDC guidelines. Our buses have also been designated as entry or exit buses and we are reducing the number of guests on each bus.
How are you making the theaters safe?
Seating has been reduced to ensure proper social distancing. Guests will be asked to leave at least two empty seats between their party and others to ensure everyone is safe.
Do you still have a buffet?
To ensure guest safety, our buffet at Emzara's Buffet has been converted to a cafeteria-style restaurant with a delicious menu. Our Smokehouse and other outdoor food venues, as well as delicious cold options in Answers Center, are also available.
Is the playground open?
Yes. The Ark Encounter playground is now open to guests, following the practice of local government officials in the reopening of playgrounds. The playgrounds will be regularly cleaned/sanitized, and we encourage guests to practice proper safety measures with social distancing and using the available hand sanitizer. We ask that parents take precautions as needed to ensure their child's safety.
Is Ararat Ridge Zoo open?
Yes. Ararat Ridge Zoo is outdoors, allowing for appropriate social distancing. Before and after petting any animals in the zoo, guests will be asked to wash their hands at a nearby handwashing station.
Are the zip lines open?
Yes. Screaming Eagle Aerial Adventures will be open and also meeting current appropriate state guidelines, such as EPA-approved sanitizing supplies, the spreading out of tour times, social distancing with reduced tour group sizes, and tour guides who are gloved, masked, and subject to daily temperature checks.
The health and safety of our staff and guests is our top priority. We have worked hard, and will continue to do so, to ensure everyone has an amazing time at the Ark Encounter and takes home nothing but great memories.
---
To learn more see the reopening announcement from our CEO
The Ark Encounter's COVID-19 Preparedness Policy is available here.