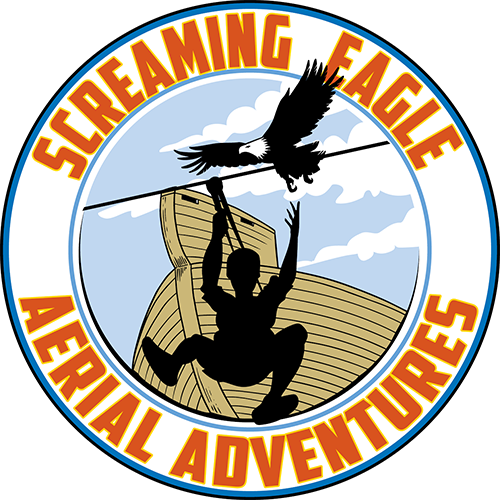 Extreme Zip Lines
Soar down thousands of feet of zip lines, reach up to 50 mph and 17 stories in the air! At the Ark Encounter zip lines, you can choose your own thrill level before you ride, so both the extreme thrill seekers and casual joy riders can enjoy their zip. Make a day of it and experience the free fall jumps and adventure course. Plus be sure to go home with proof you conquered the zip lines by purchasing a custom photography package full of action shots from your day. (Zip lines and Eagle's Nest Aerial Adventure course are not included in Ark Encounter admission.)
Buy Zip Line Tickets

Extreme Length
The Ark Encounter zip lines features 24 different zip lines to the course. Ten of these super-zip lines are 1,000 linear feet or longer and three of them are 1,500 feet or longer. The longest cable is a whopping 2,100 feet and is the longest zip line in the midwest.

Extreme Speed and Height
Thrill seekers, harness up and get ready for the wild ride. These are not your average zip lines. With speeds reaching up to 50 miles per hour and heights over 170 feet, the Ark Encounter zip lines take your ride to the max. At times you'll be zooming more than 17 stories in the air, making the Ark look even more impressive as you take in the whole picture.
Extreme Safety
With our continuous belayed harness system, your safety is our primary concern when you zip with us. Even kids ages 4 and up can experience some of the adventure, but the youngest and smallest have to ride with parents on the basic low-level Eagle's Nest Aerial Adventure course.
Zip Line Tickets
Level 1 includes 7 zip lines and 3–5 sky bridges. Level 2 includes 6 of level one's lines and one Free Fall jump (not Flight Line). Then you fly for 5 more lines, 2 of which are super zips approaching 2,000 feet long.
Eagle's Nest Aerial Adventure Tickets
Jump Tower Tickets
The jump tower is now open. Guests can choose from two kinds of jumps: Free Fall and Flight Line.
Jump
Price
Free Fall
One Jump: $9.95
Two Jumps (by same person): $17.95
Flight Line
One Jump: $14.95
Two Jumps (by same person): $27.95
Max Out Your Adventure
Don't just zip line and be done with it. Max out your adventure with a dive on our four freefall jumps ranging from 45–100 feet high. Or, get creative on our Eagle's Nest Aerial Adventure course that has over 2,300 linear feet of extreme adventures! But be careful—they say no one can walk the sky bridges without falling off. Are you up for the challenge?
Take Home the Proof
Your friends may not believe you when you tell them about the wild ride you had, flying high above the Ark and the treetops. You have the option to go home with proof of your extreme adventure by purchasing a photography package of action shots captured during your zips.