We're giving away a Noah's Ark: Thinking Outside the Box DVD/book pack!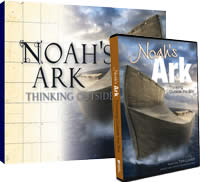 This weekend (Friday, January 14, through Monday, January 17 at 7:00 AM), enter to win one of two DVD/book packs. There are two ways to win:
Twitter: Using your Twitter account, tweet the following: I want to win a DVD/Book Pack from @ArkEncounter #ArkContest
Written entry: Simply "Leave a Reply" at the bottom of this blog post at ArkEncounter.com and tell us about how you found out about the Ark Encounter.
We will randomly draw the winners of the Combo Packs on Monday, January 17, 2011.
Other details: You may enter both ways (Twitter and written entry). Tweets must contain the hashtag #ArkContest. Entry deadline is Monday, January 17 at 7 AM (ET) and the winner will be announced later that day. No purchase is necessary to win.