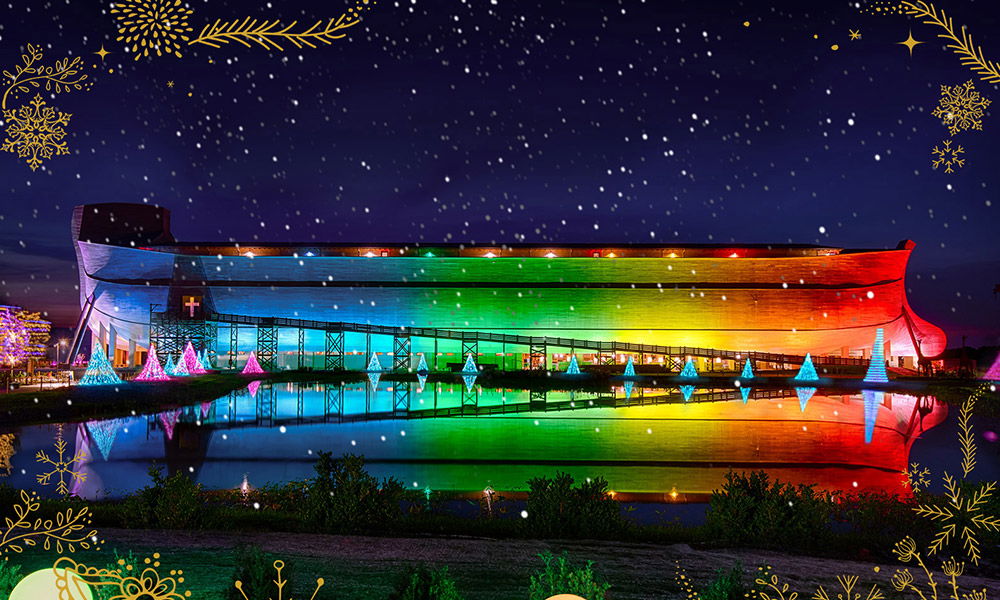 ChristmasTime 2020
November 27–December 30 | On Select Days
Bring the family for an unforgettable evening of festive lights, gift shopping, and more at the life-size Noah's ark!
Learn More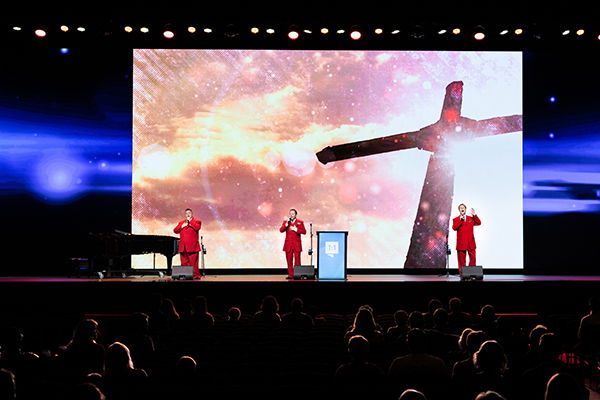 Southern Salvation
Join resident artists, Southern Salvation, as they praise our Creator in concert during ChristmasTime!
Learn More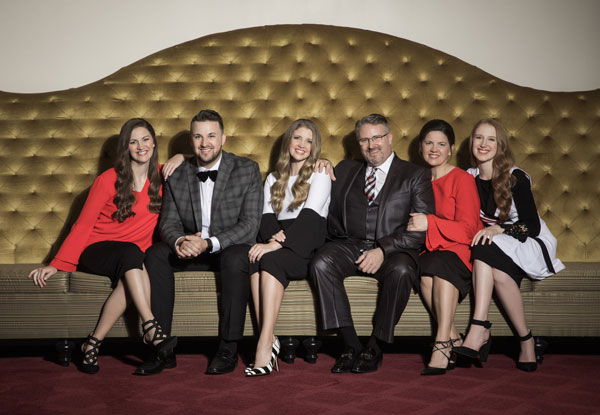 Inspiration Encounter 2021
April 8-10, 2021
Join the Collingsworth Family for 5 power-packed sessions and inspiring, life-changing concert presentations. Throughout the weekend, multiple speakers will inspire you and lift your soul!
Buy Tickets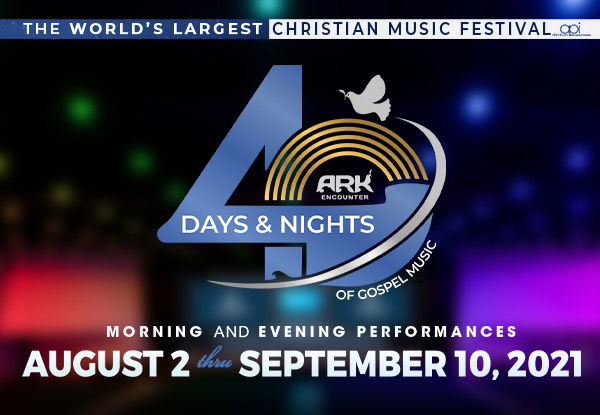 40 Days and 40 Nights of Gospel Music
August 2, 2021–September 10, 2021
The world's largest Christian music festival is coming to the Ark Encounter for 40 days and 40 nights! We're very excited to announce that Abraham Productions will be presenting several dozen gospel music artists live from the Ark Encounter's 2,500-seat Answers Center.
Learn more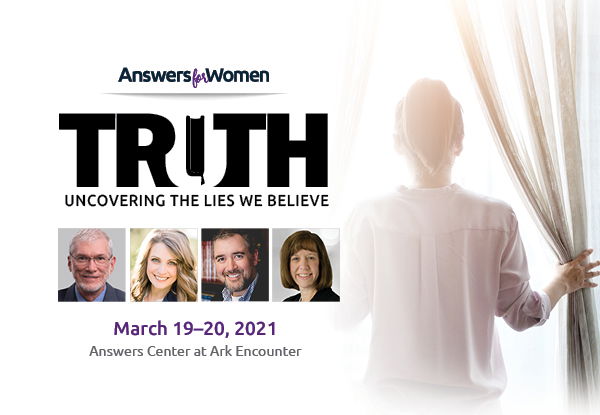 Truth: Answers for Women 2021
March 19–20, 2021 at the Ark Encounter
When we understand and embrace God's Word, we will know the difference between the truth and the lies.
Learn More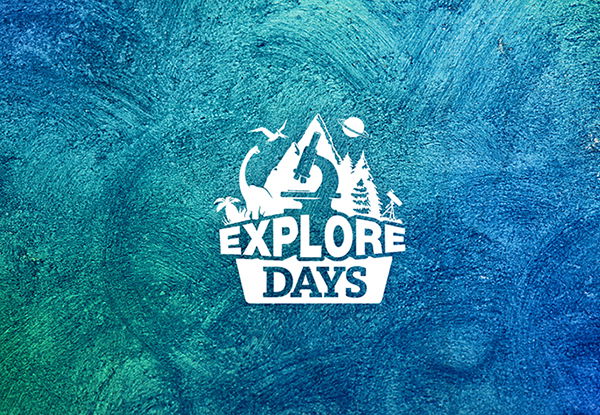 Explore Botany at the Ark
May 19, 2021
Explore Botany at the Ark will investigate the beauty and design of the plant kingdom through a behind-the-scenes experience with the horticulture staff at the Ark Encounter green houses. Open to students in grades 6–12 (ages 11 and up).
Learn More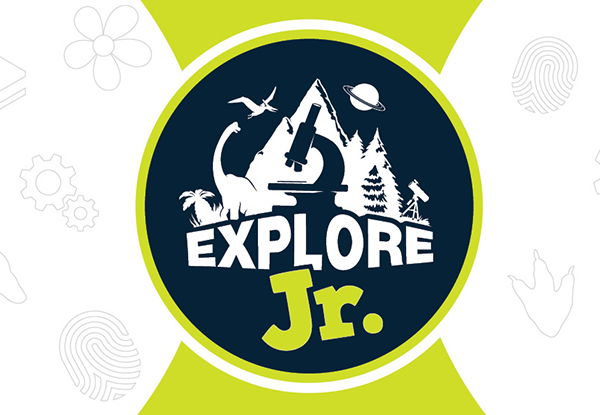 Explore Jr. Zoology at the Ark
May 21, 2021
From cute little sugar gliders to massive camels, Explore Jr. Zoology at the Ark offers an in-depth look at a variety of animals in God's creation. Open to students in grades K–5 (ages five and up).
Learn More
Join us in the Answers Center and hear from world-class creation apologetics speakers and more!
| Date | Day | Time | Topic | Presenter |
| --- | --- | --- | --- | --- |
| November 30 | Monday | 3:00 p.m. | How Did All the Animals Fit on the Ark? | Karina Altman |
| December 1 | Tuesday | 3:00 p.m. | Noah's Ark and Flood: We've Got Answers | Bryan Osborne |
| December 2 | Wednesday | 3:00 p.m. | How Did All the Animals Fit on the Ark? | Karina Altman |
| December 5 | Saturday | 3:00 p.m. | Noah's Ark and the Flood: Science Confirms the Bible | Dr. Georgia Purdom |
| December 6 | Sunday | 3:00 p.m. | The Forensic Science Behind God's Fingerprint Design | Dr. Jennifer Hall Rivera |
| December 7 | Monday | 3:00 p.m. | Fossil and Rocks: Record of Creation and the Flood | Dr. Andrew Snelling |
| December 8 | Tuesday | 3:00 p.m. | The Forensic Science Behind God's Fingerprint Design | Dr. Jennifer Hall Rivera |
| December 9 | Wednesday | 3:00 p.m. | From Creation to Bethlehem and Beyond | Dr. Terry Mortenson |
| December 11 | Friday | 3:00 p.m. | Noah's Ark and Flood: We've Got Answers | Bryan Osborne |
| December 13 | Sunday | 3:00 p.m. | Noah's Ark and the Flood: Science Confirms the Bible | Dr. Georgia Purdom |
| December 14 | Monday | 3:00 p.m. | Creation vs. Evolution: Why It Matters | Avery Foley |
| December 15 | Tuesday | 3:00 p.m. | Noah's Ark and Flood: We've Got Answers | Bryan Osborne |
| December 16 | Wednesday | 3:00 p.m. | How Did All the Animals Fit on the Ark? | Karina Altman |
| December 20 | Sunday | 3:00 p.m. | From Creation to Bethlehem and Beyond | Dr. Terry Mortenson |
| December 21 | Monday | 3:00 p.m. | What Was the Christmas Star? | Dr. Danny Faulkner |
| December 22 | Tuesday | 3:00 p.m. | The Savior Is Born: Answering Common Objections to Christmas | Tim Chaffey |
| December 27 | Sunday | 3:00 p.m. | How Did All the Animals Fit on the Ark? | Karina Altman |
| December 28 | Monday | 3:00 p.m. | From Creation to Bethlehem and Beyond | Dr. Terry Mortenson |
| December 29 | Tuesday | 3:00 p.m. | The Savior Is Born: Answering Common Objections to Christmas | Tim Chaffey |
| December 30 | Wednesday | 3:00 p.m. | The Forensic Science Behind God's Fingerprint Design | Dr. Jennifer Hall Rivera |
| December 31 | Thursday | 3:00 p.m. | Dinosaurs in the Biblical Worldview | Tim Chaffey |