Many people believe the life of a zookeeper consists of just playing with animals. But, caring for the nearly 100 animals that call the Ararat Ridge Zoo home requires hard work and skill.
The zoo is USDA accredited, which means it is held to strict standards of quality animal care. Zoo staff must not only have extensive experience with animals, but they must also have fantastic people skills, a willingness to learn, and preferably a degree in an animal science. Keepers must also be willing to work early mornings, late evenings, weekends, and holidays; outdoors in all weather conditions; and lots of unexpected overtime in order to provide the best care for their animals.
In this blog, Karina, a zookeeper at the Ararat Ridge Zoo, gives you a glimpse of what it's like to work with our animals on a daily basis.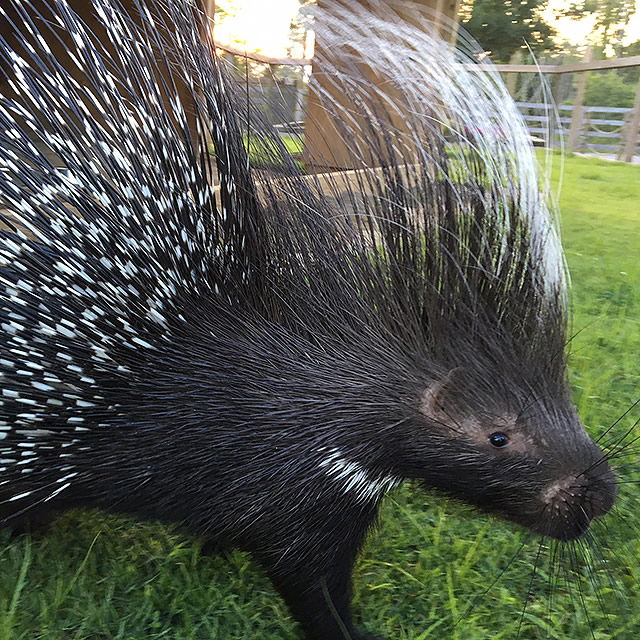 Morning Routine
Each day begins promptly at 7 a.m. since numerous tasks must be completed before guests arrive. First, the zookeepers go around the zoo to check on all of the animals to make sure they are in good health. Next, the animals are fed breakfast and provided with fresh water. All of the mammals and large birds get specialized food and hay every morning, and some of them receive large bowls of fruits and vegetables.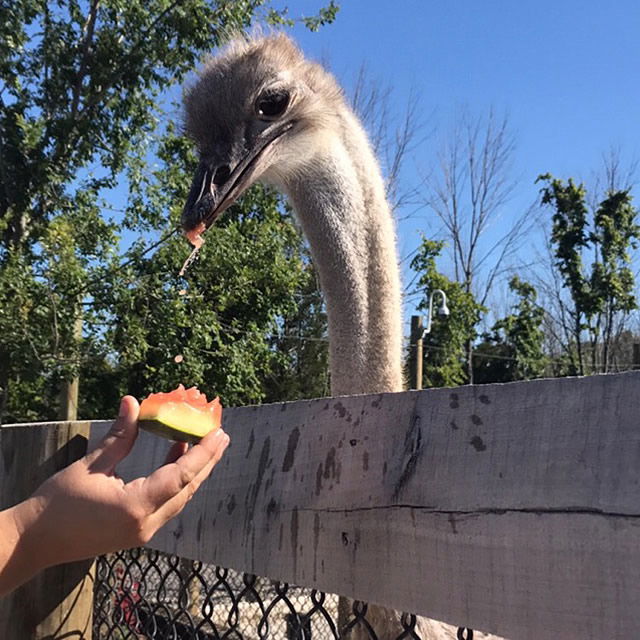 Zookeepers closely monitor the animals' weight and energy so that they are given the proper food and supplements they need. Once feeding is done, all of the exhibits are thoroughly cleaned. Any needed exhibit repairs are usually completed before the zoo opens at 9 a.m.
Animals in the Ark
Once the Ark opens, zookeepers bring several animals into a special enclosure on Deck Two. This allows guests to see and interact with live animals on the Ark. The animals are trained to ride up the elevator to get to the second floor.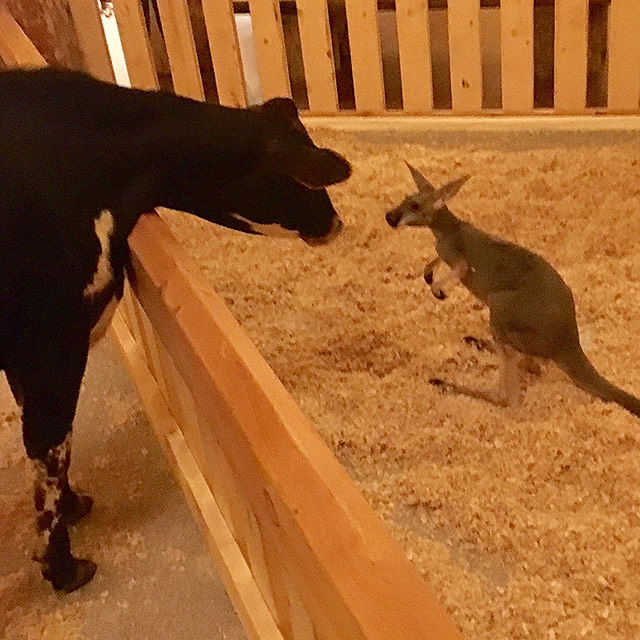 Keepers do several microphone presentations each hour to educate guests about God's amazing designs in the animal kingdom. Zookeepers bring different animals each day of the week, so people have the opportunity to meet different creatures every time they visit!
Rides and Petting Zoo
At 10 a.m., our petting zoo behind the Ark opens to the public at no extra cost. We have a herd of friendly miniature goats that love to interact with children and adults.
The Ararat Ridge Zoo offers camel rides for $8 per person every day (weather permitting). We have multiple camels that take turns giving rides each day. On their days off, they can relax and graze in their choice of three pastures.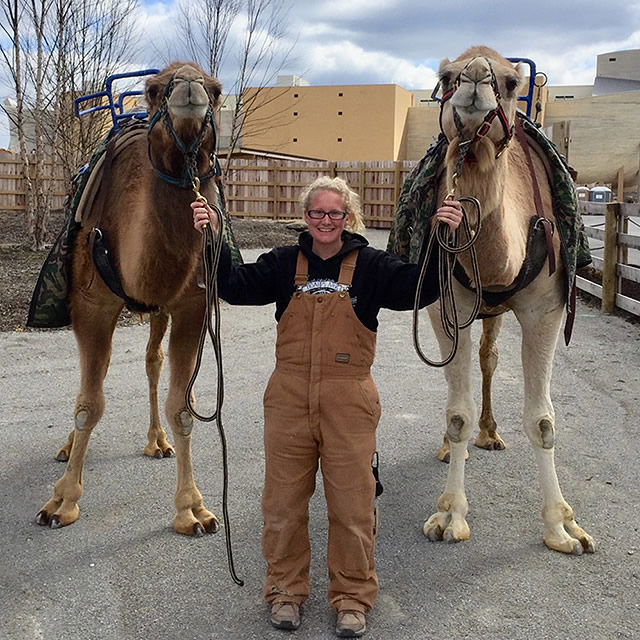 Afternoon Duties
During the afternoon, the zoo staff focuses on a variety of projects, such as distributing medications, weighing animals, trimming hooves, grooming, or bathing. The reptiles and arthropods are also fed in the afternoon because they require complex diets that take time to prepare.
Zookeepers also provide enrichment for the animals. Enrichment is anything that enhances the lives of the animals, include playing with toys, giving them popsicles or puzzle feeders, spraying them down with a hose, letting them explore new places, or introducing different animals to each other.
Sometimes, zookeepers simply spend time with their animals. Having strong, trusting relationships between the animals and their keepers is imperative to maintaining a stress-free lifestyle for the animals. Because all of the animals have different personalities, likes, and dislikes, and it is important to discover what those are in order to keep them happy and healthy.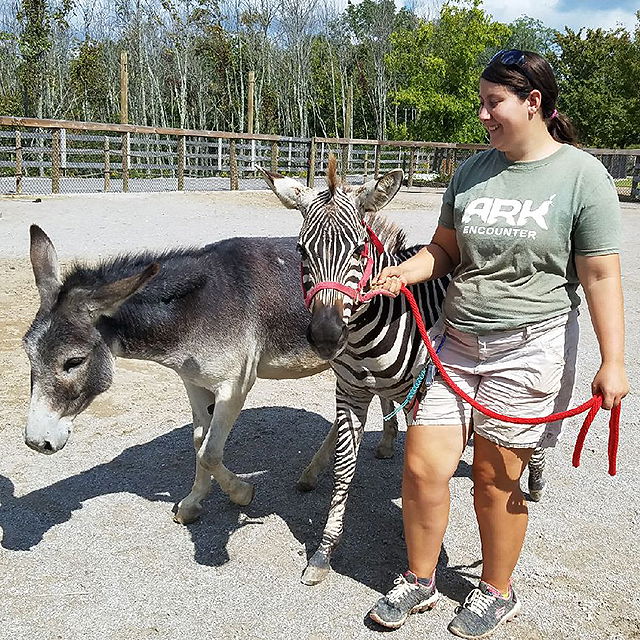 Zookeepers work on animal training in the afternoon as well. They teach the animals to participate in their own healthcare and to interact with people. For example, our zebra is being trained to walk on a lead and lift his feet for hoof care, and the porcupine is being trained to wear a harness and walk on the leash. Sometimes, the animals are taught behaviors just for fun. Some of our animals paint!
Evening Schedule
Once the evening arrives, it is time to prepare and serve dinner to all the mammals and large birds. The animals that were up in the Ark that day are brought back down to their exhibits. Next, all of the exhibits are thoroughly cleaned a second time and their water is refilled.
Once the Ark Encounter closes to guests, the ride animals are unsaddled and returned to their enclosures. Keepers do one more walk around the zoo to check on the collection, set up all fans or heaters that may be needed for the night, lock all the gates and barns, and let animals out into their pastures. Once all the animals are settled in for the evening, the keepers may then go home and rest and prepare for another rewarding day of animal care!
When you visit the Ark Encounter, be sure to stop by the Ararat Ridge Zoo. Share your photos of your favorite zoo animals on Facebook, Instagram, and Twitter using #arkencounter, and you might see yours featured in a future blog post.