You never know what amazing animal ambassadors you'll meet during our FREE daily live animal shows!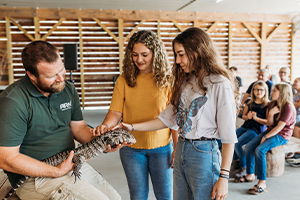 What Time Are the Animal Encounters?
Show times vary by season, so when you arrive, check your daily schedule to find the show themes, times, and locations. Shows last approximately 20 minutes.
Where Are Animal Encounters Located?
Shows typically take place at the Animal Actor Stage (in the Ararat Ridge Zoo), in the Answers Center, or at the Noah's Village Stage. Please check your daily schedule for show locations.
What Animals Will I See?
Our animal ambassador collection includes a variety of insects, arachnids, lizards, snakes, tortoises, birds, and exotic mammals, so you never know what critters you'll meet! Every show is different. Check your daily schedule to see what theme interests you the most or come to them all!
All programs involving live animals are subject to change due to weather, availability, or unforeseen circumstances. Thank you for understanding.
Can I Touch the Animals?
Touching is at the discretion of our zoo staff, but you are always welcome to take as many photos as you'd like! Staff will walk all but the largest animals around the audience so you can see them face-to-face.
What Types of Animal Encounter Shows Are There?
Amazing Animals
Come meet some incredible creatures from around the world up close and learn about God's design in the animal kingdom!
Amazing Asia
The many biomes of Asia are home to a wide variety of animals. Meet some animals from the world's largest continent!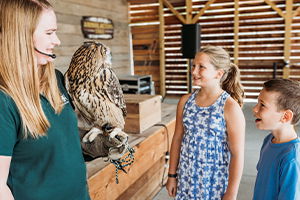 Creatures of the Night
Some of the most amazing animals in the world are only awake at night. Meet some unique nocturnal creatures during this show.
Creepy Crawlies
Insects and spiders and snakes, oh my! Learn why some of the world's creepy-crawly animals really aren't so scary after all.
Defenders
Shells, spines, and scary sounds. Why did God create animals with these methods of defense? Meet some of these animals and discover the answer!
Desert Dwellers
One of the world's most inhospitable habitats is actually home to a wide variety of wildlife. Meet some animals that enjoy sun and sand!
Fauna of the Forest
From under logs to high in the trees, many animals call forests home. Meet some animals of the woods during this program!
Feathers and Fur
Meet some of the zoo's most endearing creatures up close and learn about God's design in these adorable animals!/
Marvels of Africa
If you've ever wanted to go to Africa to see its amazing wildlife, this is your chance to see a few of those species up close!
Outback Oddities
Take a trip "down under" and meet some of the wacky animals that call Australia and the Pacific Islands home!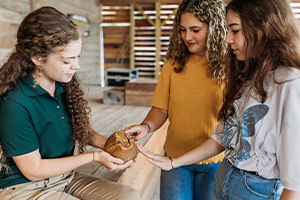 Remarkable Reptiles
Tortoises and lizards and snakes, oh my! Meet some scaly creatures and learn about their amazing design.
Sssensational Snakes
Are snakes really as scary, slimy, and sneaky as they say? Learn the sensational truth about some of God's most magnificent and misunderstood creations!
Teeth and Claws
Why did God create animals to have sharp teeth and claws? Meet some of these animals and discover the answer.
What's in a Kind?
How did Noah fit the animals on the ark? How is an animal kind different from a species? Meet some animals and learn the answers!
Wonders of the West
North and South America are home to a wide variety of creatures. Meet some animals from the Western Hemisphere!
Zoo's Got Talent
Be amazed by our critters' cool and creative talents as they show off their skills! Learn about God's incredible designs in the animal kingdom.