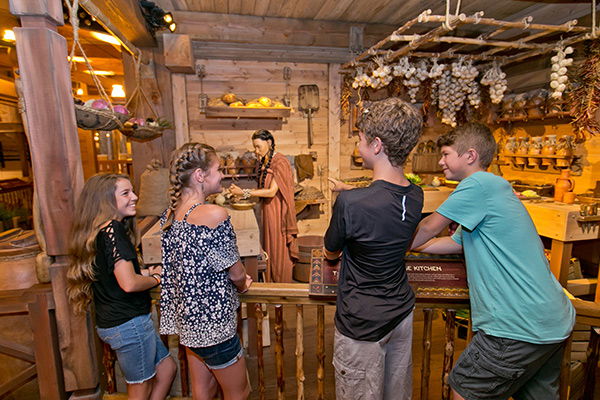 Explore the Exhibits
After the Ark is closed for the day, all three decks of stunning exhibits are yours to explore on your adventure (or youth retreat)!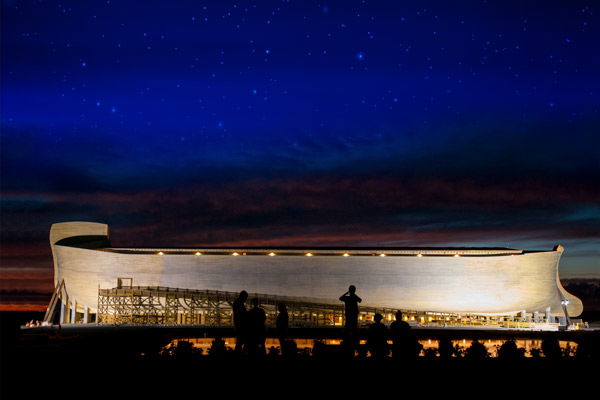 Late-Night Fun
Start the night out with a tour, games, and a snack, and then settle in for an entertaining and educational video before bedtime.
Breakfast Options
After spending a night aboard the Ark, your group will gather for breakfast at Emzara's restaurant. Choose from three different breakfast options when requesting your reservation:
Basic (included)
Pop Tarts, yogurt, granola, cold cereal, assorted muffins, milk, coffee, orange juice.
Partially Hot ($7 each)
Assorted muffins, cold cereal, assorted fresh fruit, waffles, breakfast burritos, yogurt, granola, milk, coffee, orange juice.
Buffet ($12 each)
Assorted muffins, bacon, sausage links, eggs, fried potatoes, biscuits, gravy, fried apples, yogurt, granola, French toast, syrup, milk, coffee, orange juice. (Requires three week advance notice.)
Full Itinerary
Evening Arrival
Check-in for overnight visit at Admissions. Bring in bedding.
Sleeping Areas: Girls on Deck 2, Boys on Deck 3
Emergency Evacuation Procedures (Department of Public Safety)
Ark Walk-through Tour, Program, and Snack
Preparation for bed. Lights out at midnight.
Day at the Ark/Departure
Wake up. Gather belongings and return them to vehicles.
Continental Breakfast at Emzara's restaurant
Zoo Experience
Free time to tour Ark, Ararat Ridge Zoo, Emzara's restaurant, and gift shop
Note: Bedding and shower facilities are not provided.
Prices and Reservations
Minimum group size: 30 participants and 4 chaperones (34 total)
Maximum group size: 90 participants and 10 chaperones (100 total)
Participants (Ages 9–17): $69.95
Minimum of 30 participants (or paying for 30) required, maximum of 90. This program is intended for youth and school groups ages 9 to 17, not groups of adults.
Chaperones (Ages 18+): $52.95
One chaperone per 10 participants required (minimum of four, maximum of eight): Two male, two female. Additional chaperones beyond eight must pay participant rate.
Take Home a Memory
Don't miss getting your group picture taken by Foto FX! Special overnight package rate of $8 and a digital copy for an additional $2.
Request Your Reservation
Payment and Cancellation Policies
Please use the form below to request your reservation before booking a group, in order to confirm details and availability.
A $250 deposit is required at the time of booking. Final payment is due three weeks before the overnight. See payment, cancellation, and rescheduling policies for more information.