[Editor's Note: This blog post has been updated as of February 16, 2012, to reflect the current status of the Ark Encounter project.]
Website Updates Reveal More Plans for the Project
Since the December 1 announcement of the Ark Encounter project, there's been a flurry of activity. Teams in Missouri, Indiana, and Kentucky are all staying busy this spring with concept and attraction design. Content development, site preparation work, engineering, architectural design, and coordination are all ongoing, not to mention the fund-raising efforts!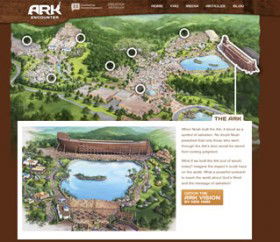 Just as God brought the animals to Noah by the appropriate time (Genesis 6:20), He's providing the resources for this dynamic experience. A special "thank you" goes out to all of you who have faithfully prayed and given time and resources to the Ark Encounter!
We are thrilled to announce that we have just crossed the $3 million mark on funds for the Ark! With this announcement, we are also delighted to introduce an updated website, which features an interactive map of the project phases—including eight planned major attractions.
Help us build a full-scale Noah's Ark, which is Answers in Genesis' part in the Ark Encounter project. The finished Ark will be a great testimony to the historicity of the Bible and will proclaim the gospel. Visit ArkEncounter.com.