[Editor's Note: This blog post has been updated as of February 16, 2012, to reflect the current status of the Ark Encounter project.]
Here's a look at a couple of pieces of concept art for the Aviary, one of the future phases at the Ark Encounter.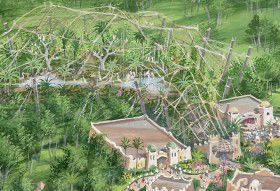 The Aviary will be a fascinating walk-through attraction, with several viewing platforms inside three types of bird sanctuaries. Each sanctuary will allow guests to get close to the birds in a natural setting. A nearby butterfly emporium will give visitors additional learning experiences.
For more information about the Ark Encounter project, visit our website at ArkEncounter.com.
Help us build a full-scale Noah's Ark!
Answers in Genesis's part in the Ark Encounter project is raising $24.5 million in donations and boarding pass sales for an all-wood Ark, the centerpiece and first phase of the whole multi-attraction complex! A finished Ark will be a great testimony to the historicity of the Bible.