In a world that is so anti-Christian and depraved, how do we stand for what is right and good? During our 2022 Answers for Women conference, get equipped to stand rooted in the Word of God, right in the midst of a twisted generation. This event will take place March 31–April 2, 2022, in our Answers Center at the Ark Encounter. Learn more below!
Practical Tools for Living Out Your Faith
Engaging, passionate speakers who love God's Word will give you practical tools for living out your faith in a dark world. Speakers include Darrell B. Harrison of the Just Thinking podcast; Ken Ham and Dr. Georgia Purdom from Answers in Genesis; Kyle Mann of The Babylon Bee; Cong. Mike Johnson, an attorney who represents Louisiana in the US Congress; Bill Jack of Worldview Academy; biblical counselor Martha Peace; and more. Award-winning artist Laura Story will perform in concert and give her powerful testimony.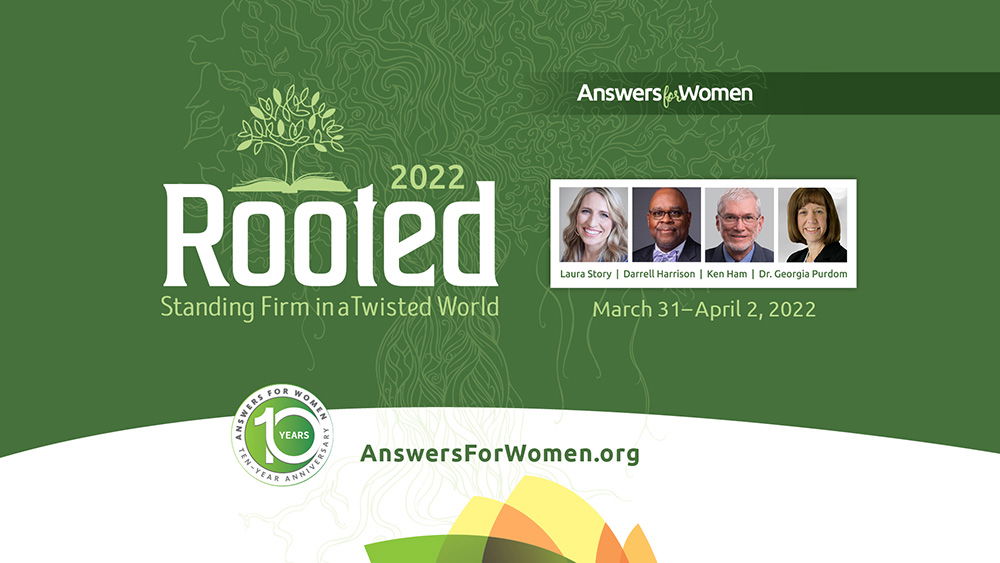 Register Today and Save!
When you register for our 2022 Answers for Women conference by September 30, 2021, you'll receive our early-bird price and save $60! Registration includes a free 7-day pass to the Ark Encounter and the Creation Museum so you can explore everything these attractions have to offer as well.
Don't miss this opportunity that will help root yourself, your daughters, your granddaughters, and those in your church in God's Word. Register today!