In just over three months since the announcement of our building a full-size replica of Noah's Ark at the Ark Encounter, we are thankful to announce that we've just crossed the $2 million mark in our fund-raising campaign!
Raising $2 million is no small feat and we recognize the fact that there are hundreds, if not thousands, of stories out there about creative ways people are raising funds and awareness for this monumental undertaking.
Recently, Answers in Genesis founder and CEO, Ken Ham, wrote about one such story. Ken writes:
I received a note from a 16-year-old boy named Joshua, who sponsored a peg for the Ark Encounter project. He really wanted to sponsor a beam for the full-size Noah's Ark to be built in Northern Kentucky, but this teen could not afford to do that. So, he was hoping that the snow sculpture of the Ark on a mountain (remember, Noah's Ark rested on the mountains of Ararat) would perhaps inspire many others to consider how they might help promote and spread the word about the Ark Encounter in creative ways.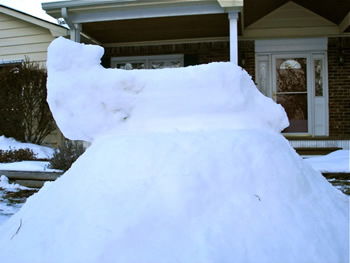 Thanks, Joshua, for doing your part to spread the word about this project that will be a powerful monument to the world about the authority of God's Word. You can read more about Joshua's story on Ken's blog.