Passing another significant milestone, the Ark Encounter, LLC, closed recently on the last and largest piece of land for its planned development on an 800-acre site in Williamstown, KY, off Interstate 75 (south of Cincinnati). Under the direction of Answers in Genesis (AiG), a full-scale Noah's Ark will be constructed as the featured attraction at the Ark Encounter. Research indicates the Ark Encounter will draw well over a million people in its first year.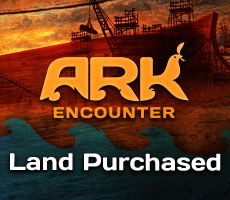 In addition, the completion of complex engineering and architectural work on the Ark structure has allowed for significantly greater guest capacity inside the Ark than originally anticipated. This finding has eliminated the need to build additional biblical attractions simultaneously to accommodate the projected crowds.
For more information about this exciting development, check out the recent press release from Answers in Genesis.
Get on board the Ark! Visit ArkEncounter.com to see how you can help us raise $24.5 million in donations for an all-wood Ark in northern Kentucky.