At the end of 2012, through God's blessing, the Ark Encounter completed a matching gift challenge which exceeded its end-of-year donation goal of $3 million! The strong year-end giving will allow us to apply for all of the permits necessary to begin excavation and construction as the funding is provided. (AiG is about halfway to its overall donation and boarding pass goal!)
The year-end donations also allow for our architects and engineers to continue to work on the necessary site and building plans for the Ark and other facilities.
Last week, we signed the formal contract with the Troyer Group. We hope to have all of our construction permits in hand by November of this year (2013).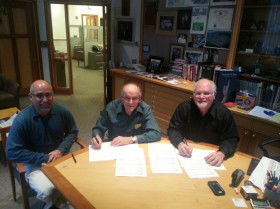 Martin Miranda (Troyer Group CFO), LeRoy Troyer (Troyer Group president and chair), and Mike Zovath (Ark Encounter senior vice-president and co-founder) are pictured above signing the contract. The Troyer Group, located in Mishawaka, Indiana, is bringing its construction management skills to this project.
With the contract signed and permit process underway, activity will increase on the Ark Encounter site in anticipation of—and in preparation—for the long-awaited construction phase. Continue checking the Ark Encounter website for updates to see what is taking place and what is to come. Once bidding opportunities are available, we will be posting that information on the site as well.
We appreciate all of your prayers and support as we move closer to bringing the Ark Encounter project to Williamstown, Kentucky!