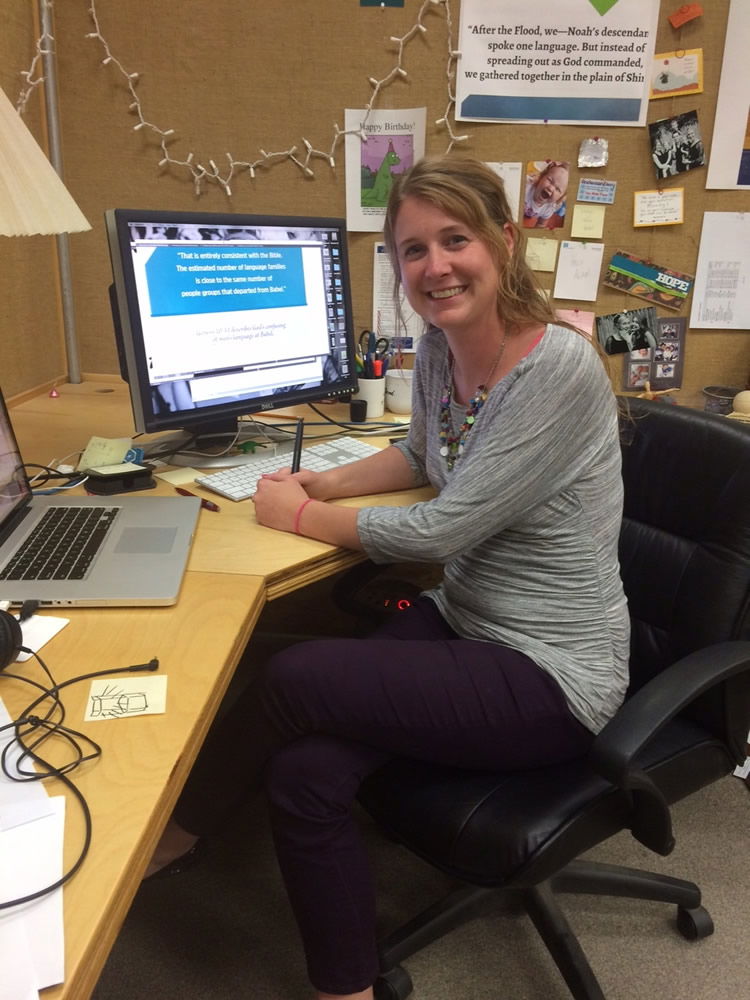 I'm Kendyl, and that's one of the first questions I ask when I begin my work as a designer on various exhibits for the Ark. Once I've collaborated with others and we've established the story of how it could have been, I use that in creating the atmosphere for the exhibit: whether it's about Babel, or ancient man, or the door of the Ark. From there, I seek to figure out what emotions I should convey in the space through color, images, styles, signage, and any props. I want each element to point back to the overall theme and reinforce it.
I also need to keep in mind that the exhibit must appeal to a variety of learning styles and backgrounds. I would say that's one of my biggest challenges: to design for the wide audience we reach. I think through how to best reach all ages, all life philosophies, and all religious beliefs with the truth that is being presented.
This process involves some trial and error. There are some designs that work really well from a conceptual point of view or as individual pieces, but for one reason or another they just won't work for the whole exhibit. Here's an example of an early design for our Babel exhibit complete with miniature figures to determine space and size that we decided needed to be overhauled.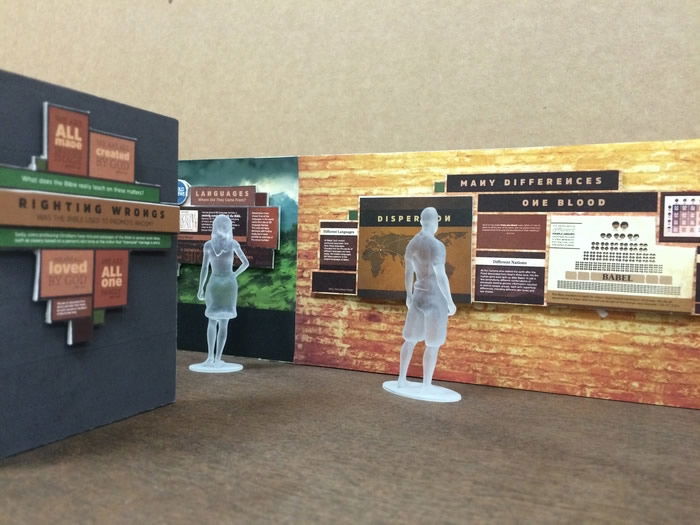 A few people who are especially helpful in the process are Tim Chaffey (Content Manager), James de Leon (Lead Graphic Designer), and Patrick Marsh (Vice President of Attractions Design). Tim and I go back to the Bible and use that as the means of focus for grounding the artistic ideas on truth. James offers valuable input on the practical side of the exhibit. His questions take my creative thoughts and channel them into something that can work outside of my computer. And while he's sometimes hard to track down because of how busy he is, I really enjoy working with Patrick Marsh. When he chats with me about various designs, I get to see his heart for each exhibit. I love being able to use my creativity and to try to match it with his direction and passion for truth.
Ultimately, I want to be sure that the design elements blend seamlessly with the teaching points so that we do our very best in sharing the truth of God's Word and the gospel of Jesus Christ.
Here's a screenshot of an updated sign concept to go in the Babel exhibit that will be at the Ark Encounter.