There can be a lot of hype surrounding the phrase fair trade these days. You may respond positively or negatively, depending on what you have heard or know about fair trade. Have you ever walked through the grocery store and seen a box of neon-colored macaroni and cheese labeled "natural"? Clearly words can mean different things to different people! Consider also the word Christian. A person's understanding of this word may be different depending on where they were born or raised, their life experiences, their own belief system, and so on. We don't shy away from the word Christian and call ourselves by another name just because not everyone understands what we mean when we say it. Neither do we shy away from the phrase fair trade because those words, when used correctly, represent a great opportunity for us to stock the Ark Encounter with incredible products from around the world and at the same time share the gospel and the love of Christ with people who need Him.
So let's take a minute to define what we mean by fair trade. At its essence, fair trade is a buying relationship that creates opportunity for economically disadvantaged artisans in the developing world by providing a sustainable market for their handcrafted products through long-term buying relationships.
Fair trade is not a new idea. Many well-known and well-established fair trade organizations, such as Serrv International and 10,000 Villages, were started in the 1940s by missions-minded Christians who became aware of heart-breaking poverty around the world and found a way to help.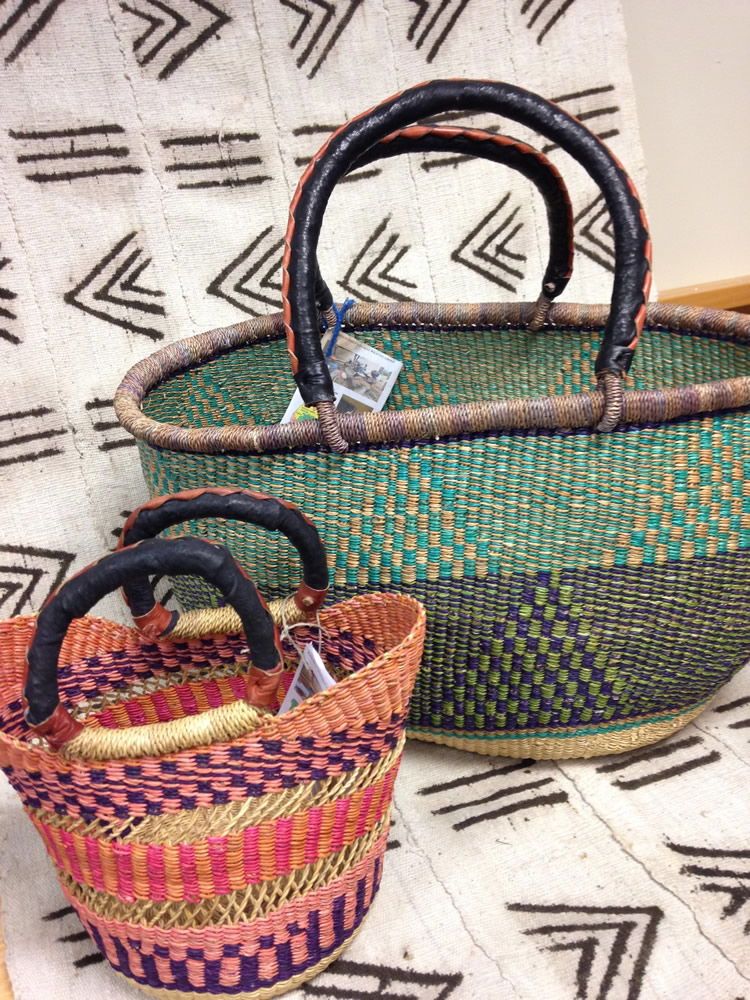 The principles of fair trade are pretty simple, but the impact is profound. We are sourcing goods from individuals and co-operatives who maintain these standards.
Create opportunity for poverty-stricken artisans
More than a billion people in our world live on less than $1/day. Poverty often leads to exploitation, and many of the most vulnerable are women and children, as families are forced to make unfathomable choices in order to survive. Our goal is to work with many small producers—individuals as well as established fair trade co-operatives—to stock our Ark Encounter gift shop. By providing these artisans with work and a reliable income, we provide an opportunity to break the cycle of poverty and the freedom to choose a different life.
Developing transparent and accountable relationships
We will promote groups that we know are transparent and respectful in their dealings with their artisan partners.
Building capacity and establishing long-term buying relationships
We aim to provide a market for quality handcrafted items and to work closely with our artisans and co-operatives to meet the needs of our market. A close working relationship with our artisans allows them the benefit of understanding the desires of our market and seeking creative ways to make new products. A long-term buying relationship allows artisans to grow along with us.
Promoting fair trade
We will work hard to share the encouraging stories of how our fair trade partners are being helped by our relationship and patrons.
Paying promptly and fairly
A fair price is a price agreed upon in advance by both the buyer and the artisan producer. This allows the producer to make a fair wage (in local context) and the buyer to sell at a price the market will bear. Artisans are paid promptly upon receipt of goods, and in some cases paid up to 50% of the price in advance as a form of microloan for those who need it.
Ensuring the rights of children
Obviously, not all work done by children should be considered negative. Work that does not negatively affect a child's health or interfere with his schooling is often beneficial. Many children help out around the home or with a family business. The International Labour Organization explains,
The term "child labour" is often defined as work that deprives children of their childhood, their potential and their dignity, and that is harmful to physical and mental development. It refers to work that is mentally, physically, socially or morally dangerous or harmful; interferes with or deprives them of the opportunity to attend school; obliges them to leave school prematurely or requires them to attempt to combine school attendance with excessively long and heavy work.

In its most extreme forms, child labour involves children being enslaved, separated from their families, exposed to serious hazards and illnesses and/or left to fend for themselves on the streets of large cities – often at a very early age. Whether or not particular forms of "work" can be called "child labour" depends on the child's age, the type and hours of work performed, the conditions under which it is performed and the objectives pursued by individual countries. The answer varies from country to country, as well as among sectors within countries.
Supporting safe working conditions
Safe working conditions are simply those that are entered into voluntarily and are free from physical hazards or harassment of any kind.
Cultivate environmental stewardship
We seek to honor God in our stewardship of His creation.
Respect cultural identity
Our artisans have unique, indigenous art and craft traditions that we are excited to share.
Find out more details on all the generally accepted principles of fair trade.
So, maybe you can get behind all of that, but the most important question of all still remains: what is "fair trade" without Christ? God's Word makes it clear that he is concerned about the poor, the weak, and the oppressed, and that we should be also (Psalm 12:5, 140:12; Isaiah 25:4; Matthew 25:35–40). Like all of us, their greatest need is for a Savior! The majority of our fair trade partners are also ministry partners who wholeheartedly agree with our mission to "obey God's call to deliver the message of the gospel, individually and collectively" and are actively sharing Christ in their sphere of influence. In the coming months, we will share many stories of how God is at work in amazing ways all over the world. Your fair trade purchases will make a difference, not only to help someone out of economic poverty, but most importantly to spread the gospel so that all may hear (Matthew 28:18–20).