Two weeks ago, we showed you some of the work being done to the Ark property. In less than a week, massive amounts of soil had been cleared from one hill and moved to a nearby valley. All of this is being done to level the ground on which the Ark and surrounding buildings will be constructed.
The excavators have continued their impressive earth moving and instead of a high hill and deep valley, the land is nearly flat. Here is a picture taken of the area from last weekend.

Now look at a shot from a similar location taken about two weeks earlier. Keep an eye on the oak tree on the left side to see how much progress has been made.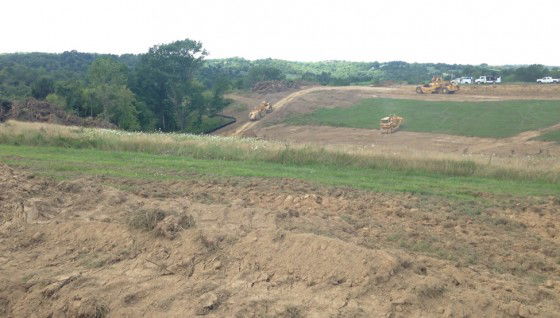 Excavation and other preparations are moving along at full speed. Please keep our team in your prayers as we work on this fascinating project. Pray for the safety of the construction crews and for God's guidance in all the planning.
For more information about the Ark Encounter, please visit ArkEncounter.com.