Your trip to the Ark Encounter will not be complete without a walk through the gift shop. From unique fair trade items to apparel, we have many keepsakes to help you remember what you learned during your tour, including several rainbow-related products. (Many of the gift ideas below are also available through the online store of the Ark Encounter's parent ministry, Answers in Genesis.)
The rainbow is a symbol of God's promise in Genesis 9:13 that he would never again send a worldwide (i.e., covering the entire globe) flood. The rainbow really can be a segue into the gospel message, a reminder that just as God provided a way of salvation for Noah and his family from the Flood, so has he provided a way of salvation for us today.
Here are six rainbow-related items that you might want to take home with you to help start gospel conversations with your family and friends.
Taking Back the Rainbow T-shirts
We've been "taking back the rainbow" to remind people of its true meaning, and we have several products proclaiming this initiative, including a pair of T-shirts. With two eye-catching designs, in either black or charcoal, these trendy shirts proclaim the true message of the rainbow. These are certain to be a conversation starter.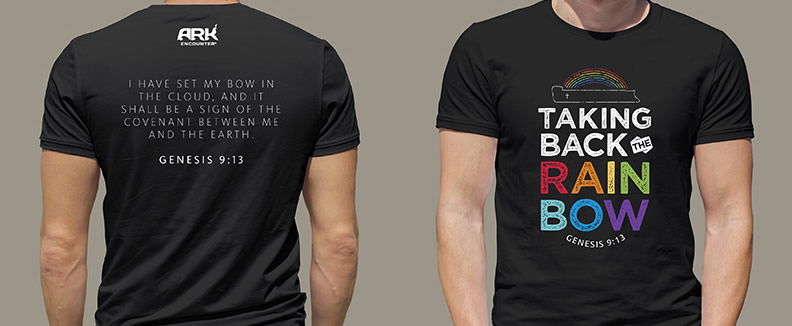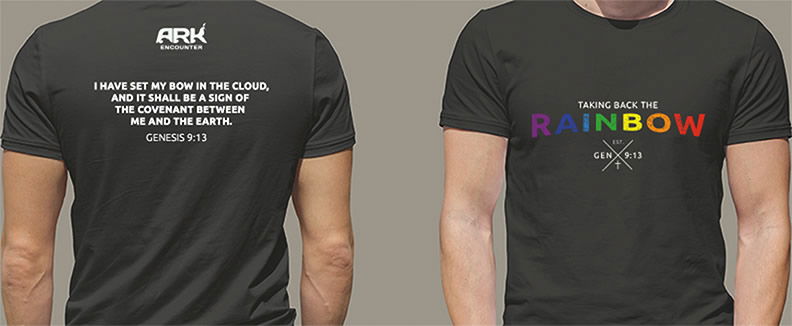 Taking Back the Rainbow Bumper Sticker
Adorn your vehicle with a catchy bumper sticker proclaiming that the rainbow's true meaning was established in Genesis 9:13.

Taking Back the Rainbow Keychain
Carry this reminder around with you everywhere with the Taking Back the Rainbow keychain!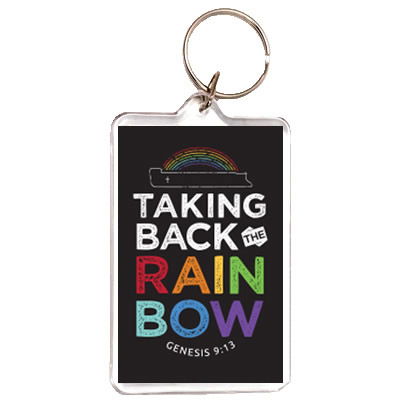 Rainbow-Inspired Journals
We also have two rainbow-inspired journals. One bears our "Taking Back the Rainbow" image, while the other is a feature of our fair trade items. The Ark Encounter Rainbow Covenant Journal has a beautiful, hand-carved rainbow on its front. It has handmade pages, is covered with hand-carved wooden panels and bound with an antiqued-leather spine. Both journals are great reminders of God's covenant with us, whether you're writing a letter, taking notes, or making a list!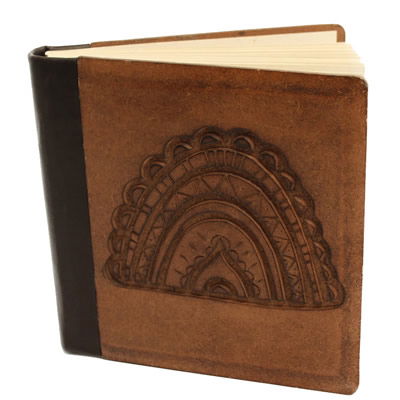 Rainbow Projector
This fun projector puts a full-color rainbow on your walls or ceiling. Our rainbow projector is a great way to enjoy the beauty of a rainbow while teaching your children its true meaning.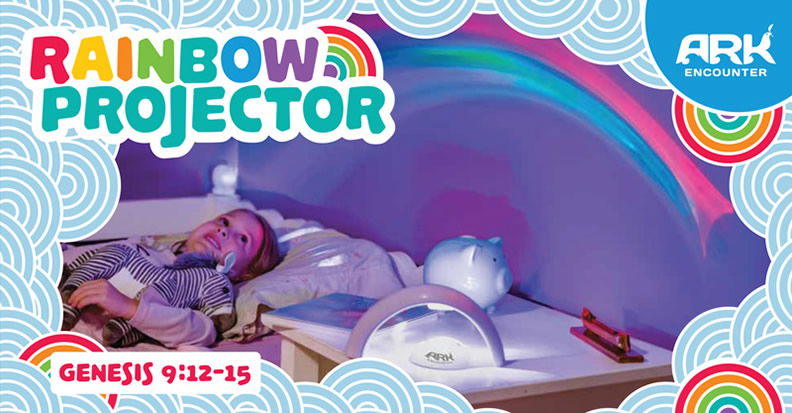 When You See a Rainbow
The rainbow has taken on different cultural meanings in the past few years, so it is vitally important that children remember the true history of the rainbow as a symbol of God's promise to Noah and the world after the Great Flood. Your children will love this short but powerful explanation of the rainbow and its significance in our When You See a Rainbow board book.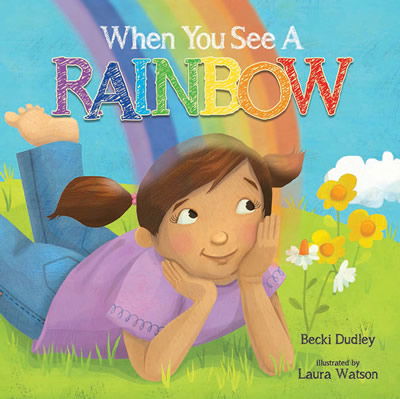 Start planning your trip to the Ark Encounter today, and check out our selection of rainbow-inspired products in the gift shop! Share your favorite items with us on Facebook, Instagram, and Twitter using #arkencounter.